World's cheapest tablet aka 'AKASH' can be bought at a mere price of $35 dollars as a student on subsidized price and in the market it has a $60 price tag.The 7" tablet is design by a london based company 'Datawind' in collaboration with IIT(Indian Institute of Technology) and is manufactured in India by QUAD
The device is being sold in India for students who cannot afford an expensive tablet like iPAD. Manufacturers are hopeful that they will be able to sell their products easy and convincingly. Indian government is also supporting their project by buying 8 to 10 millions of the tablet for poor students.
Specifications:
Screen Resolution:
800x480 pixel resolution with a 7" inch resistive screen
Weight:
350gms
Operation System:
Andriod 2.2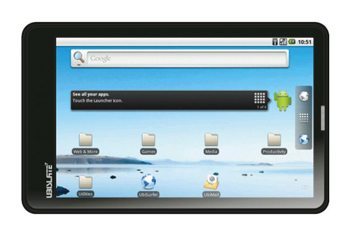 Processor:
366Mhz Connexant with Graphics accelerator & HD Video processor
RAM:
256 MB RAM
Memory:
Micros SD slot with a 2GB Micro SD card (expandable to 32GB)
Ports:
2 USB ports
Battery:
2100mAh battery, upto 3-4 hours backup, very less power consumption of 2 watts with solar charging option.
Web Browser:
a browser developed by Datawind
Connectivity :
Wi-fi capability , Bluetooth, internal SIM modem(GPRS)
Audio:
3.5mm audio output and input jack
supported documents: DOC, DOCX, PPT, PPTX, XLS, XLSX, ODT, ODP,PDF
supported images: PNG, JPG, BMP and GIF
supported audio: MP3, AAC, AC3, WAV, WMA
supported video: MPEG2, MPEG4, AVI, FLV formats and includes an application for access to Youtube video content

Price: Rs.2500/- (Rs.1700/- for students) - Indian Rupee
A new version which is better will soon be available with some extra price added