With new gadgets and smartphone populating the market with ingenious computational powers, these gadgets are becoming more power hungry . Bigger Smart screens need a good better and bigger battery and similarly the gigahertz processor urge to get more power out of the battery.
There are 2 ways to find a solution for the battery, either to get a battery which could last longer, which could make manufacturers go for more R&D and a result will be a pricey gadget.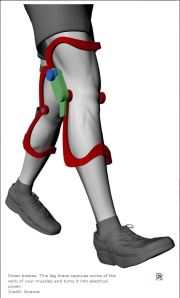 A simple ingenious method was made public at CES by 'InStepNanoPower' is to create such a gadget which could power or charge the device whenever a person move/walk/run.
40watts of mechanical power is generated when we walk. A special shoe which has a pair of electricity generating cushion in its sole. Over the course of a single day, the generated energy, which gets stored in a small battery in the sole, provides enough electricity for a pedestrian to extend her smartphone's battery life.
The science inside this idea are piezoelectric sensors, which converts mechanical power to electrical power.
It's like having an electrical power generator and a Wi-Fi hot spot under the heel !