First ever Menthol fuel-cell charger:-
Toshiba has launched its first direct methanol fuel-cell (DMFC) product: Dynario, an external power source for "mobile digital consumer products".

Toshiba's Dynario makes power from highly-concentrated methanol
Once filled with an injection of methanol solution, Dynario is able to generate electricity that can be transferred to, say, a mobile phone or MP3 player over a USB connection.
Each fuel cartridge holds 50ml of "highly-concentrated methanol", yet Toshiba claimed this enables Dynario to generate enough power to charge two mobile phones.
Dynario measures 150 x 21 x 74mm, weighs 280g when empty and has a 14ml fuel tank capacity – meaning that each fuel cartridge will give you at least three full refills.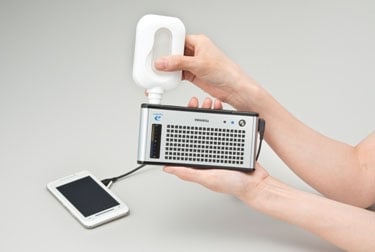 Squeezy does it
An initial batch of 3000 Dynario units will be available in Japan from today, priced at ¥28,900 (£191/$316/€211) each. If the DMFC gadget proves successful with power-hungry punters then a wider roll-out could follow.